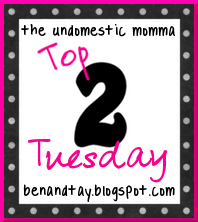 Over at the
Undomestic Momma
, it is once again time for "Top Two Tuesday". I love this week's topic, Top Two Baby Names. I mean how perfect is this! Weather you have kids or not, every girl has her favortie baby names. Here are mine,
Girls
Elisabeth, call her Ellie
Margret, call her Maggie

Boys
Charles, call him Huck
John
Obviously, I like names that can be shortened. Both my boys go by shortened versions of their "real" names. In fact, with Ben, I picked Ben first and then picked a "real" name that could be shortened into Ben. I know that is so backwards but that is just what happened.
I am looking foward to reading all of your favorite names. I hope ya'll have a great day!