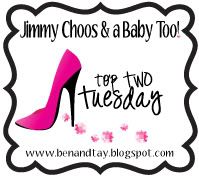 The topic of today's
Top Two Tuesday
is 2 favorite TV shows. I don't get to watch a whole lot of TV. Well, I take that back. What I mean is I don't get to watch a whole lot of TV that I want to watch. When the TV is on at our house, it is usually on PBS Kids during the day and Disney at night. So, this means I get to see a lot of Hannah Montana and The Suite Life on Deck along with Clifford, Curious George and Sid the Science Kid. But, I do occasionally get to watch something I enjoy and when I do, I love The Office and Teenage Mom.
The Office I love because it is hilarious. There are so many quoteable lines. I just laugh out loud pretty much the entire episode. It is a show that requires no thinking to watch. Just watch and enjoy.
Strangely enough, I also love the show Teenage Mom. This is weird becasue you would think being a teenage mother at one point, I would not want to watch it. I lived it, so why watch it on TV? Who knows but, I love this show.